January 5, 2023

Looking Back On 2022: A Year of Giving

Happy New Year, PEFCU fam! I hope you enjoyed your holidays by winding down and relaxing with your loved ones. The last few weeks of 2022 felt like a whirlwind, but alas, here we are in 2023 with promises of new beginnings and a brighter tomorrow! 😊  

As you may recall, PEFCU launched its NEW community outreach program in April of 2022, and it took off like wildfire! After looking at the stats, I was personally blown away at all that PEFCU has accomplished in so little time, and so it brings me great joy to be able to share them with you: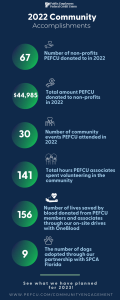 As you can see, we've made quite an impression in our communities, and we are only getting started. In 2023, we plan to achieve SO much more. More donations, more events, more community service, and more of those "feel good" moments to be proud of! We appreciate you for coming along for the ride and look forward to seeing what the New Year will bring us.  
Until next time, 
Alyssa (your community connection)